What Are The Best Hard Pistol Cases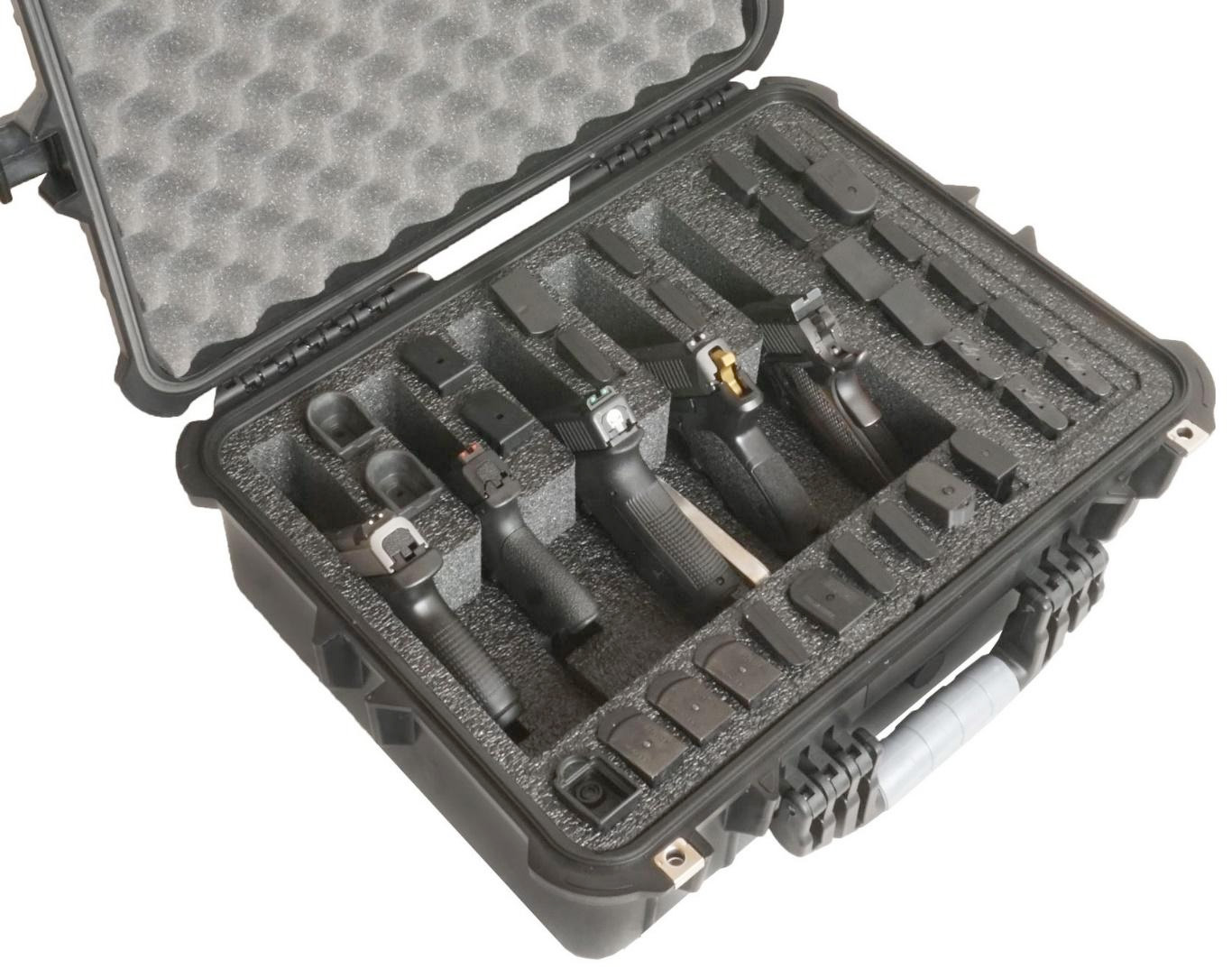 With such a tremendous proliferation of firearm aftermarket accessories, choosing the proper gun case for your latest semi-automatic pistol acquisition is tricky. Whether soft or hard or in price ranges from a meager seven or ten dollars to over two hundred, there are so many pistol cases to choose from that it's tough to know which one will serve your needs best when it comes to protecting and transporting your pistol.
Although you can spend months of research attempting to find the best hard pistol cases, this list of the top four might make the task of choosing one a little easier. Regardless of which one you finally pick, each one offers features designed to protect your pistols and, at the same time, promote an easy and comfortable carry.
MTM 805-40 Single Pistol Case
MTM Case-Gard™ is a family-owned company that has provided gun case solutions for over fifty years. Each product MTM offers features designed by an expert team member to resolve a specific issue or a product based on suggestions from many customers. Regardless of the hard case you choose, MTM offers a five-year warranty against defects and a "living hinge" warranty of an incredible ten years from purchase.
If the pistol you wish to protect is a short-barreled revolver or semi-automatic of four inches or less, the MTM 805-40 will be a perfect investment at a low price of fewer than fifteen dollars. Featuring outside dimensions of 10.1 X 8.0 X 3.2 inches, the MTM 805-40 inside has more than ample inside space of 9.7 X 5.7 X 2.8 inches, and the thick foam padding on the inside protects your pistol from contact with anything that could mar or scratch your gun's finish.
The rugged polypropylene case sports a pair of double-lock tabs and an oversized snap-latch handle that guarantees a comfortable and safe transport of your pistol. When carrying smaller firearms and needing an almost indestructible hard case that's easy to access and comfortable when transporting your handgun, the MTM 805-40 is probably one of the most popular choices for gun enthusiasts today.
Case Club 5 Pistol and 20 Magazine Pre-Cut Heavy Duty Waterproof Case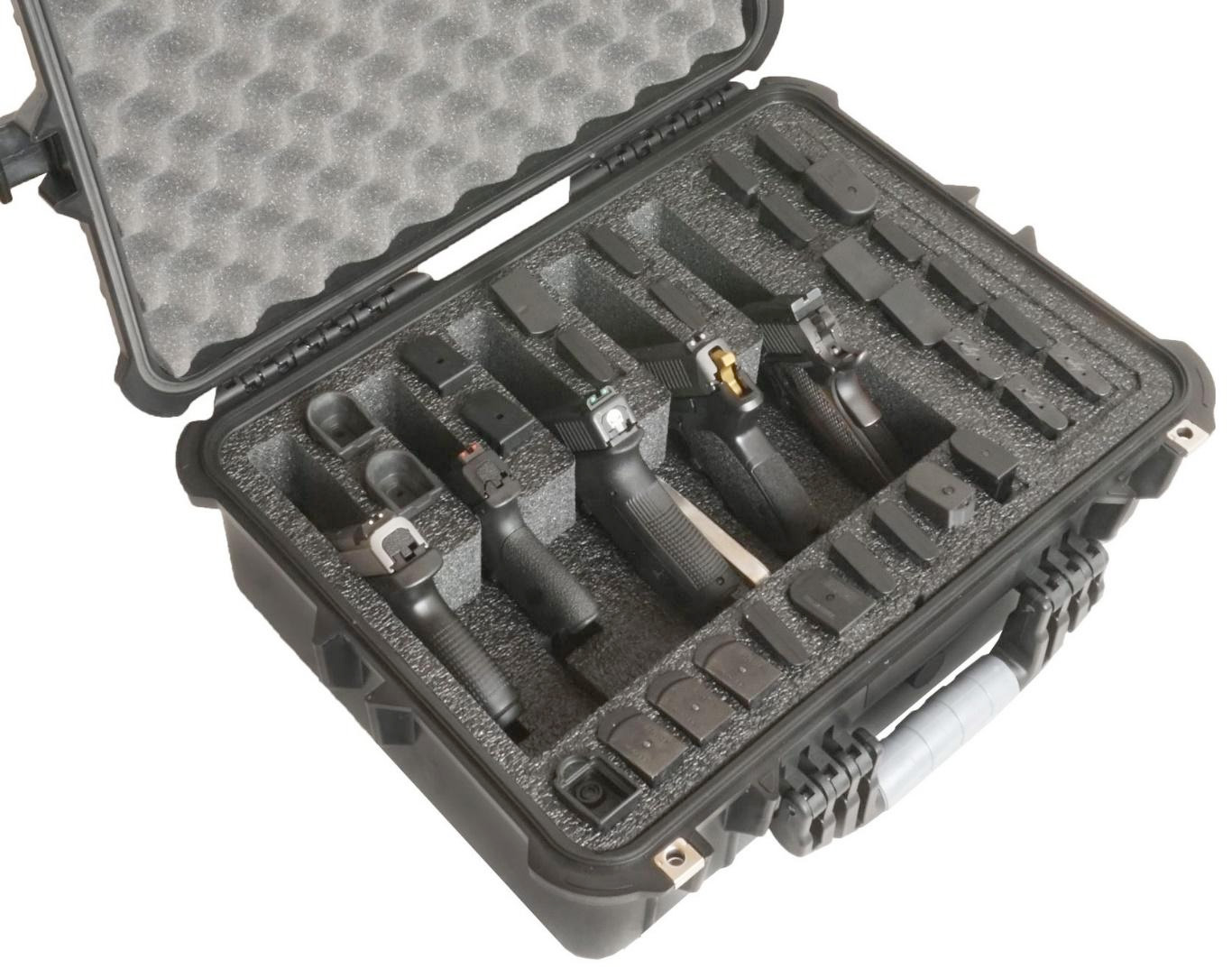 Moving up in both price and features, Case Club offers a heavy-duty hard case that is not only waterproof but offers the ability to carry up to five different pistols along with ammunition magazines for each in one spot. For around a hundred dollars, Case club offers this dustproof and IP67 rated waterproof case, with heavy-duty non-abrasive foam protection precut to Mil-Spec requirements and closed-cell Polyethylene on the inside that's guaranteed not to absorb moisture or oils.
Of course, the most apparent feature of the Case Club is that it will accommodate up to five pistols and twenty magazines plus an additional five if all guns have loaded magazines in their magazine well. The magazine wells cutouts of the Case Club hard case are staggered at dual levels and will fit both single and double-stack magazines. By simply removing or adding the included magazine spacers, you can ensure a perfect magazine fit regardless of what you need to carry.
Additionally, what makes the Case Club five pistol hard case a top choice for gun owners is how the pistols themselves mount inside the case. Inside the Case Club hard case, all handguns sit in a quick draw fashion, with the pistol grips presented, always allowing for safe removal from the case. The Case Club 5 Pistol hard case supports full-size pistols with barrels up to 8.5 inches long and compact or subcompacts that you've fitted with attachments beneath the barrel. For small or full-sized pistols with RMR or ruggedized miniature reflex sights, the Case Club 5 pistol case provides ultimate protection and security.
Suppose you want a hard case with maximum carry ability that will withstand even the harshest travel conditions. In that case, you can't go wrong with a Case Club hard case pistol carrier because not only do the integrated structural external ribs provide maximum carrying protection, but the entire case is TSA approved for travel.
For about one hundred dollars, the Case Club 5 Pistol Hard Case is the perfect choice for the competitive shooter or when needing a safe and approved method for transporting multiple firearms and ammunition when necessary.
Eylar Tactical Hard Gun Case Water & Shock Proof
Although carrying five pistols in a case may be perfect for someone heading out to a competition, there are other excellent solutions for those who need to transport one, two, or three of their favorite pistols safely. The Tactical Hard Gun Case from Eylar accommodates between two or three pistols depending on their configuration and protects its cargo with four layers of foam padding.
Inside the Tactical Hard Case, Eylar features two "pluck and pull" padded cubes sandwiched between upper and lower egg crate layers that snug the pistols in place to protect them from harm's way. Eylar manufactures the Tactical to rigid IP67 waterproof standards and is both shock and dustproof. However, Eylar doesn't stop there; creating the Tactical Hard Case with lockable fittings to make it TSA approved when traveling. 
When searching for the best two or three-pistol carrying case for around fifty dollars, be sure to check out the Tactical Hard Case from Eylar before making your final decision.
Flambeau Outdoors 1011 Safe Shot 10″ Pistol Pack Case
Another great pistol case for travel is the Flambeau Outdoors 1011 Safe Shot 10-inch case that is lockable to meet TSA requirements. The Flambeau Outdoors 1011 sports a pair of rugged sliding locks that can be secured by your choice of security, and the convoluted foam-cushioned inside protects your pistol from movement and general wear during transportation.
For fewer than fifteen dollars or better when on sale, the Flambeau Outdoors 1011 features a slim, flatter design that promotes stackability when space is at a premium. If you're looking for a lightweight but safe hard case to transport your pistol, the Flambeau hard case features an integrated handle for an easy and secure grip. When it comes to a lightweight carry solution, the Flambeau Outdoors 1011 weighs less than a pound, so it's not likely to wear you down when carrying your pistol to its destination.
Made in the USA with pride, the Flambeau Outdoors 1011 features an inside dimension of 9.75 inches in length, 6 inches wide, and only 2.75 inches deep, and an exterior of rugged synthetic polymer to handle even the harshest handling conditions.
Carry Safe and Protected
As mentioned earlier, there are so many quality types of hard case pistol carriers on the market that it may get totally confusing when choosing the right one for you. Whether you need to carry multiple pistols or just a single gun, one of these carrying cases will meet your need and more than likely fit within your budget. Remember, if you need something to protect your pistol or pistols while transporting them, any one of these four cases will provide years of dependable service.
If you just picked up your Smith & Wesson CSX be sure to grab a hard case to go with it!
Best Hard Pistol Cases Wrap Up
It's always a tough choice to choose the best hard pistol case because of the number of options available. We hope our article helped you make a better decision about your hard pistol case choice.