Savior Equipment Specialist Pistol Case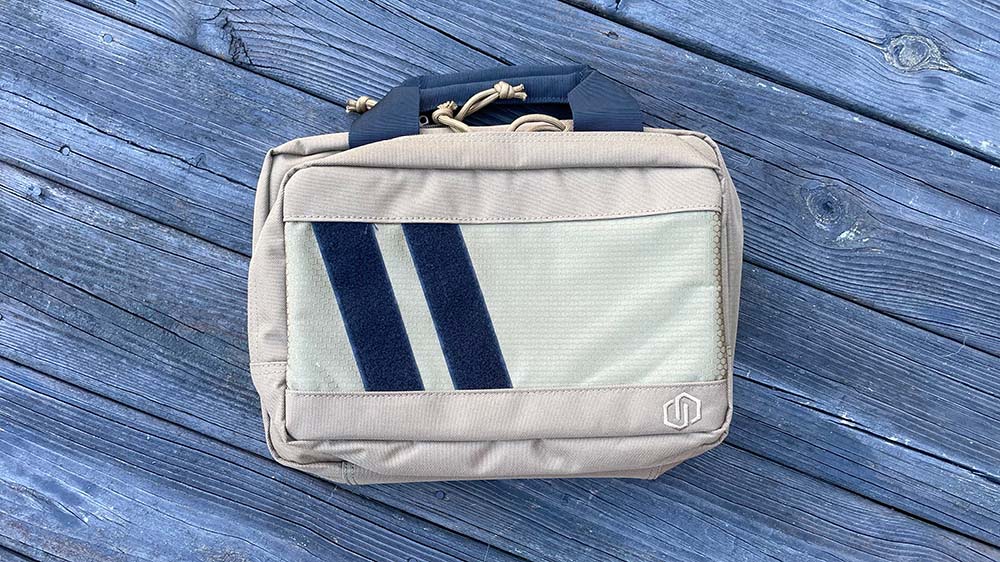 Savior Equipment is probably one of the largest pistol case makers around today selling their products on Amazon at WalMart and even on sites like Newegg.com. One of the Savior Equipment pistol cases really caught my eye, the Specialist Pistol Case by Savior Equipment is a unique case offering.
Savior makes a number of pistol, rifle, and backpack-style cases. We are going to do a full review of the Savior Equipment Specialist Pistol Case.
About Savior Equipment
Savior Equipment is best known for its tactical rifle cases, namely the Urban Warfare case. Savior is a somewhat vague company in that their about page is faceless. Other than to name a founder "Chris".
If they weren't already a powerhouse in the bag world I would be very sketched out by their about page.
Without doing a ton of research it's safe to assume Savior is probably owned by a conglomerate company. They spot a lifetime warranty and I have not heard of any major issues with people needing to use their warranty or having issues with it.
Savior Equipment Pistol Case Overview
As per our usual review, we are going to do this review on Savior Equipment's Specialist Pistol Case just like we do all our other case review articles. We go by the following criteria:
Design
Features
Materials
Quality/Workmanship
Here comes the standard product description and provided product dimensions. Sometimes this is marketing non-sense, but usually, the sizes are accurate.
Dimensions
Full Size | 13″ x 9″ x 5.5″
Internal Size | 12.5″ x 8.5″ x 2.5″
Pistol Pocket Size | 12.5″ x 7.5″
Front Pocket | 12″ x 7.5″ x 2″
6 Magazine Slots (each) | 8.5″ x 1.75″
Elastic Band Height | 3″
Technical Specifications
600D Polyester Exterior & Interior Shell
Knitted Elastic Bands
Lockable Zippers
Double-Stitched Seams
Morale Patch Panel
Main Features
Specialist Front Panel
Cushioned Pistol Compartments
Enhanced Knitted Elastic Mag Slots

Increased Ease of Use
Fits Most Sized Mags

Lockable Admin Pocket
Lays Flat
Patent Pending
Imported
Savior Pistol Case Design
This Savior Equipment pistol case is designed to hold one at mot two pistol's comfortability. It has a nicely placed zipper pocket on each side of the case where your pistol slides in and provides a decent amount of padding to protect the gun while you transport it.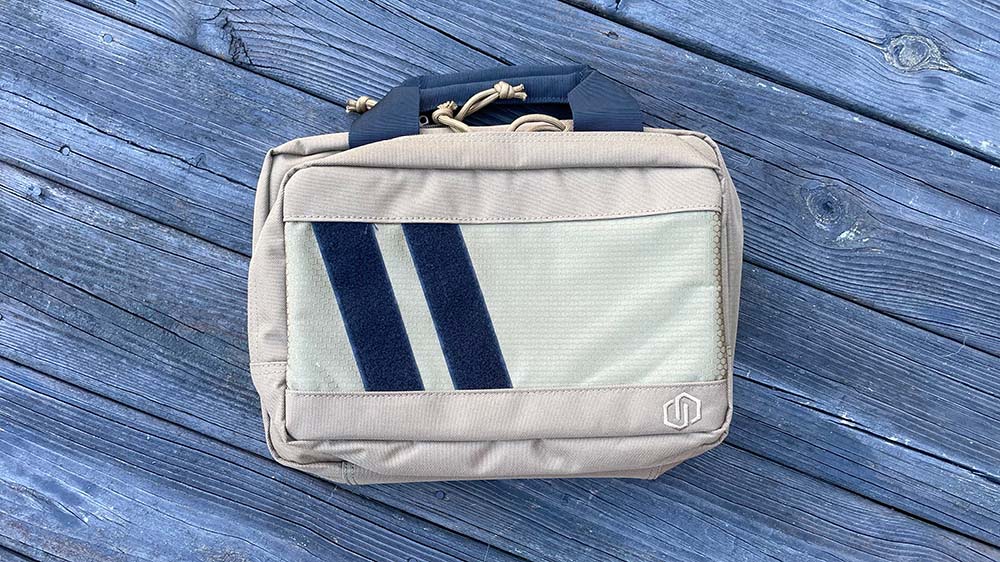 The case has two major compartments the front compartment has 3 x large organization slip pockets and two pen pockets.
The main compartment holds your pistol and magazines. The main compartment is mostly open and has the magazine retention panel on the back wall of the case.
Glock magazines seem to fit well in this elastic design but smaller magazines might not hold as well and be loose.
Overall, the design is solid and the carry handles work but there's nothing to keep them together which would have been a nice touch, but not required.
Savior Equipment Pistol Case Features
Specialist Front Panel
The front panel looks very nice. I'm not sure how it's a feature but rather a design aesthetic but it is probably a major reason these are so popular, they look really nice.
The two diagonal strips of velcro on the front are largely useless in my opinion but you could attach a name tag if you so desired. But if you want the honest truth they are mostly for aesthetics, and they do make the bag look unique and good.
Cushioned Pistol Compartments
There are two of the cushioned pistol compartments in this Savior Specialist case. One of the front wall and one of the back wall.
They both have zipper closures with a small paracord loop pull. For a Chinese-made bag, the zippers do seem extremely solid. Typically zippers are a no-go on China bags.
Both compartments have some type of plastic wall in them with padding on the gun side of the compartment. This plastic makes the Specialist case feel solid and rigid.
Enhanced Knitted Elastic Mag Slots
The overall design of the elastic mag slots is good. They hold larger double-stack mags just fine but smaller sub-compact or compact pistol magazines might be loose in these.
So if you have a Glock 43 or a Sig P938 you might want to figure out a way to hold the mags better than the specialist case will.
Lockable Admin Pocket
The front "admin pocket" features lockable zippers. This is a nice touch but I would have liked to see it on the gun compartment as well because that would make this case California compliant as well.
The admin pocket could hold your wallet or other valuables while you are at the range and you could lock them. Still doesn't prevent the case from being walked off with and ripped open later.
So if this isn't to comply with secure gun laws not sure why it's on the admin pocket and not the main compartment.
Lays Flat
Strange "feature" but I guess if storage is an issue for you and a case that compresses and lays flat then this is important to you. But I don't know many gun people that are that hard up for space, especially with the size of this bag already.
Savior Pistol Case Materials
The materials feel and look solid. This is a "PRC" case or the Peoples Republic of China, says it right on the tag inside. The tag is oddly placed and feels tacky but it has to go somewhere.
The 600D Polyester exterior feels more like 1000D Cordura you'd find in the states but the interior fabric definitely feels like a step-down.
Denier numbers for overseas fabric is a bit iffy anyway so I don't get wrapped up in the numbers very much anymore.
Just know the materials in this case feel well-sourced and quality.
Savior Pistol Case Quality/Workmanship
Stitches are straight it's double stitched where it should be and all the materials feel good. So it's batting a thousand on the overall materials.
The quality and workmanship are always the true tests for me.
The quality of the Savior Equipment Specialist Pistol case is there. It feels solid and it's gonna hold up based on everything I've seen and tested so far.
The workshop dropped the ball. A simple once-over QC would have caught some loose threads in the front compartment but for a $30 bag, it might be fine.
But I would be doing a disservice if I didn't point it out.
Savior Speciliast Pistol Case Overview
Overall, this is a very good pistol case. If you're looking for a small, notebook-like case, this is gonna do. If you are a made in the USA person this isn't the case for you.
If you want a good value and decent case then this is absolutely a no-brainer. If you want more options check out our other soft pistol case options.
Savior Equipment Specialist Pistol Case
Holds 2 Handguns
Holds 6 Pistol Magazines Securely
600D PVC Shell & Interior
Lockable Zipper Sliders
Unquestioned Lifetime-Warranty.