5 Best Budget Gun Cases in 2022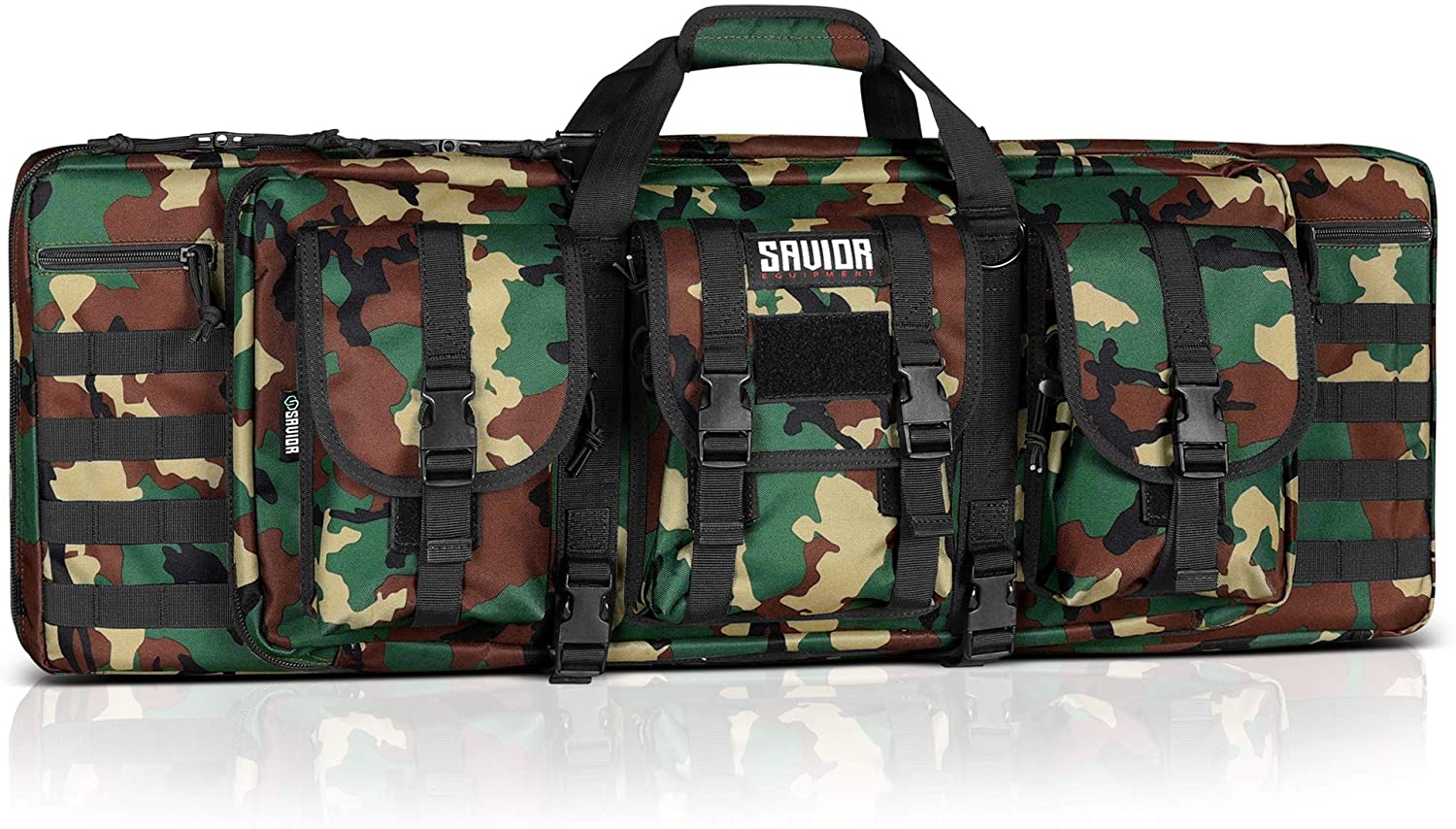 No matter how advanced, expensive, or heavy-duty your gun is, it's incomplete without a compatible gun case. Are you looking for gun cases and budget-conscious? Look no further we have put together the 5 best cheap gun cases in 2022. Well, then you hit the jackpot because we're going to talk about gun cases in this article.
After intensive research, we cherry-picked these gun cases for you. To say the least, they're the best out that money can buy. We have a variety of gun cases so that you have a few choices to choose from. Read the article till the end to find out more.
Features
Rock-solid exterior
This gun case is exactly how you want it to be. The outer part of the case has to suffer the most; that's why the Flambeau Outdoors Gun Case has a hard plastic exterior that protects your firearm from intense impact while reducing wear-and-tear considerably. While this may be a budget gun case its durability is great for the price.
Anti-Corrosion
If you're new to this, then you're unaware of the havoc that rust can cause on your firearm and the case. Thankfully, this product has ZERUST Anti-Corrosion Technology. The anti-corrosion Zerust tab releases a vapor that prevents corrosion by creating a protective layer on the metal.
This stops it from rusting, and the company guarantees that this protection will stay intact for at least 5 years.
Extra safety
To ensure that your firearm remains safe, the company has added four locking points that guarantee your weapon's secure closure. Once it's locked out, you won't have to worry a bit.
This complex locking mechanism will prevent any outsiders from even taking a peek inside.
Moreover, you can also transport your firearm without expecting it to fall. This locking mechanism assists with storing the firearm as well, so feel free to store it in a safe place.
Excellent design
The gun case has 10 x 13 magazine storage dividers that are infused with anti-corrosion Zerust technology. Plus, it also has Velcro straps so that you can safely secure the gun and your magazines in the right place. This will allow you to place all your gun-related accessories together.
The gun's interior dimensions are 40" L x 12" 2 W 4" D. In addition to this, the gun case meets TSA guidelines and is safe for airline travel.
Pros:
Economical
Sturdy
Secure closing
Cheap Gun Case but doesn't lack quaility
Cons: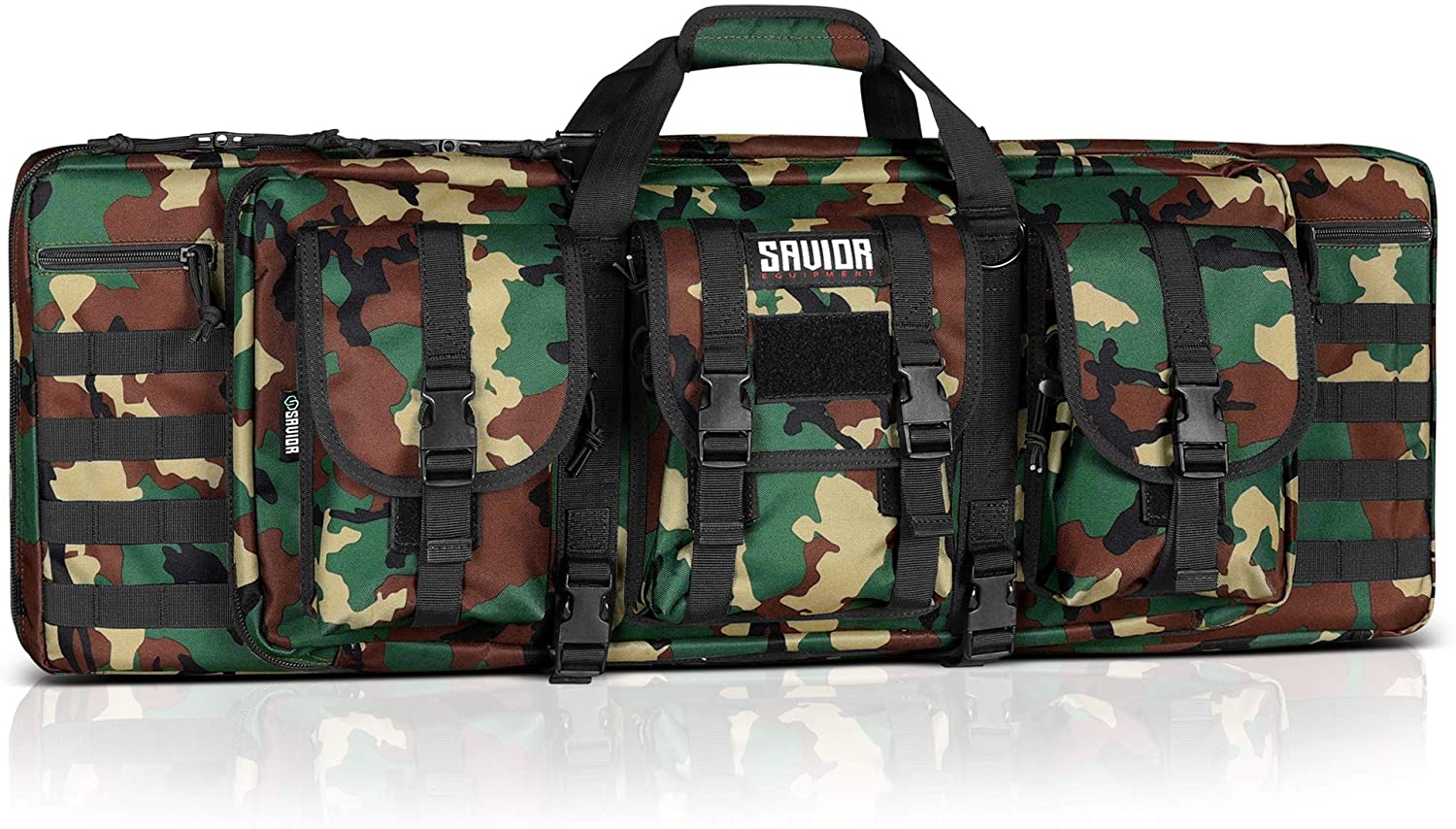 Features
High-quality construction
The next gun case we have here is a work of art. Made from heavy-duty Industrial 600D PVC Nylon; this is an extremely durable gun case that will last a long time. The gun case may be cheap but it's not cheaply made quality. The material that goes into construction eventually decides whether the gun case is for short-term or long-term use.
Gracious capacity
In case you're a hunter who likes to carry extra essentials to a trip, this gun case has enough space for 2 Rifles and 2 Pistols with additional pocket compartments for magazines and any other essentials. This will allow you to carry several essential items together without fearing that you may lose them on the way.
Optimized security
Speaking of losing items, this gun case is equipped with Lockable Zipper Sliders on both sides of the firearm comportments. Your firearm deserves the highest protection, and we believe Savior is trying to give you just that.
Furthermore, it also has a Molle Grid, Paracord Zipper, D-Ring, and Backpack straps if you want to pack any extra materials.
Lifelong warranty
Savior believes that its products are high-quality and that its customers receive the best customer service. Their policy says that whether you like the product or not, you can return it. This applies for a lifetime, though, so that's a plus point in case something goes wrong with the gun case. Cheap gun cases often don't come with a lifetime warranty so this is a nice touch.
Pros:
Easy storage, spacious
Sturdy
Several useful pockets
Safe locks
Cons:
The guns inside may bang together
Features
Superior protection:
This product is constructed with an idea in mind: safety. With thick-walled construction, this gun case is excellent for traveling and storing firearms to transport. The gun case's interior is high-density foam, while it also grants the buyer two rifle spaces or shotguns. Plus, you can rest assured that the guns inside are safe and sound. The rifles can be 50-inch long.
Increased security:
To allow you, the customer, the facility of safety, the gun case has high-quality latches and a comfortable molded-in handle for your convenience. Additionally, it also has a molded-in handle through which you can open it.
Supplemented quality:
Most gun cases are either known or famous for their exterior or interior quality, but this product is different. It's packed with internal and external safety so that your firearm does not incur damage from the outside world. This will allow your weapons to maintain their accuracy and use.
The gun case is safe to take on an airline, and the dimensions are 15 x 51.50 x 4 inches. Cheap gun cases are often frowned upon by airlines but this one is lockable and fits the bill for the FAA.
Pros:
Secure closures
Economical
Durable
Cons:
Interior adjustments required
Features
Aesthetic look:
A gun case with high durability and an attractive look? Now that's something you may want to watch out for. This Daytona Soft Gun Case is a sight to see, and that's a bonus, especially when not all gun cases are pleasing to look at.
Easy clean lining:
Cleaning your gun case is essential because, with time, you may end up seeing unwanted dust and dirt, which may have a chance to damage your gun. However, this product has a commendable interior that makes cleaning easier than ever.
Plus, the case also has an adjustable sling that can be used as you like. Cheap gun cases don't often come with adjustable style slings so this is a nice touch.
Excess storage:
Thanks to the four accessory pockets, you can easily store your additional gear. This may include magazines, scopes, or anything that you tag along with your firearm.
Durability:
When it comes to being durable, this soft case takes the cake. The exterior fabric is made from rugged Endura fabric that is known to withstand the tensions of the environment. It will prevent your firearm from incurring damage and any potential impact that may reduce its effectiveness or accuracy.
Usually, firearms take impact and lose their original efficacy. But it won't happen with this gun case by Allen Company.
The thick foam padding adds to the durability factor by a margin, making this soft gun case one of the best out there.
Pros:
Big, spacious case
Good padding
Economical price
Cons:
The rifle may fall out due to a zipper at the bottom
Features
Ample space:
This gun case is no ordinary one; it has 3 magazine pockets with full flap hook and loop closures. The bag will easily secure the magazines on the exterior of the case, making it look attractive and convenient at the same time. Carrying extra magazines is no longer a hassle now!
Convenient use
This gun case has external dimensions at 35.5" L X 12" H X 2" D, and it's ideal for storing a rifle. You can carry it wherever you want; the gun case is portable and easy to carry around.
In addition to that, the zipper is of full length, which allows easy access to your rifles or other firearms through the main compartment. Now you don't need to spend ample time trying to search for a way inside the gun case because it's in your reach now.
Optimized durability
Make no mistake; the manufacturers aren't joking when they say that this gun case is durable. Made from durable ballistic fabric, this product has an adjustable nylon shoulder strap that you can also wrap around.
The heavy-duty nylon handles will endure the weight, and they perfectly complement the exterior case because it's made to stand against any potential harm that may come from outside. Budget gun cases often lack durability so be sure to consider it when making your selection.
The reinforced nylon strap on the bottom side of the gun case creates a durable layer that increases your firearm protection.
Pros:
Easy transportation
High durability
Good quality material
Cons:
Nothing to hold the firearm inside at its place
Cheap Gun Case Comparison Chart
Best Cheap Gun Case Buying Guide for 2022
Most gun carriers take their firearms too leniently, but what they don't know is that in some states it's against the law to carry a firearm without its case. Because keeping your firearm safe is your responsibility and you don't want any unfortunate incident when it comes to a personal firearm because that can be troublesome.
But which factors go into buying a gun case? Let's take a look at them.
The type of gun case
There are two types of gun cases: soft and hard. The soft ones you'll find in the market will have a lower price point and their protection will be commendable. You can also find low-quality soft cases and they do their job just fine. Unless you're looking for a heavy-duty gun case.
Additionally, it's important to state here that when changing materials remember that each material will demand a separate duty. For example, leather gun cases need to be handled with care, and maintenance is necessary. This, however, does not apply to every gun case.
Whereas, hard cases offer high security to your firearm. Since they're constructed from aluminum or plastic/fiber. This means they can withstand wear and tear for a long time before kicking the bucket. Plus, you may also find lightweight yet durable hard cases out there.
Case size
Your firearm is, even though, the main component of the puzzle it is not the only one. With a firearm, you have additional accessories that need to be stored safely alongside the gun. Before buying a case ensure that it has enough capacity to store all the essentials that come with your firearm. Usually, gun cases have storage pockets or other systems in place so don't forget to check.
Locks
As soft and hard cases have variable durability, their locking mechanism is different as well. Soft gun cases are accompanied by simple padlocks that aren't complicated to understand. Whereas hard gun cases have lockable steel latches or a set of locks to protect the firearm inside. Keep in mind that you need to purchase a gun case that makes minimal sound when you begin to unlock it. If there's a ruckus, you may end up scaring prey.
Design
One of the key aspects that people tend to ignore about gun cases is the design. This factor is taken into consideration after purchasing the product. So, why not consider it beforehand? Gun cases are made with a design in mind. Now, does that sit well with your firearm? Do you think your firearm pointing below could be dangerous to people? Before confirming the purchase, ensure that the design of the gun case is compatible with your firearm.
Plus, does it have enough storage for your firearm to fit in perfectly? Remember, you don't want it too spacious nor do you want it too cozy. Gun cases that can home two firearms also exist but at the end of the day, the decision rests with you.
Price
Premium gun cases have extra accessories, and their quality is top-notch but what is your requirement? Are you a casual hunter or a seasonal one? Do you need it for a one-time trip or do you plan often? Ask yourself these questions to understand what you actually need. As you increase the price, the characteristics of the gun case will improve. But cheap gun cases don't have to be low quality.
In the gun case market, you may hear big names. And while there's no denying that big names exist because they guarantee and provide quality products, there are many products out there that do their job perfectly without costing an arm and a leg.
It's good to remain cautious when the topic is firearms because safety and security is a priority but it's important to realize that there are economical options out there like the products we mentioned above.
Padding
Now, you may have read about different types of padding that come with gun cases but is it necessary to have several layers of padding? Yes, it is necessary because the firearm should not be exposed to the rugged landscape directly. It can damage the firearm or worst-case scenario, it may fall out.
Good padding increases the durability of the gun case and prevents these mishaps from happening. Make sure that your gun case has enough padding.
Frequently Asked Gun Case Questions
We've whipped up a Frequently Asked Questions part to clear any confusions that may arise in your head.
What is a hard sided gun case? Is it good?
Hard cases are crush-resistant. Their material prevents your gun from incurring scratches or damage that may hinder its look or performance. If you're extra cautious, a hard-sided gun case is an excellent option since it provides greater security to your firearm.
What are gun cases made of?
It depends on the gun case. Soft gun cases are constructed from fabrics and nylon that give it the required texture whereas hard gun cases are made from plastics and metals. They're both durable though.
What is the best gun case?
At the end of the day, it depends on your preference and the gun that you have. Plus, you should consider the price factor as well. Usually, as the price rises the quality of the gun case increases. And with higher quality, your gun can remain more secure.
Why do I need a gun case?
Firearms come with a lot of responsibility that you should never neglect. To ensure that your firearms are safe and secure you will need a gun case. Or else, it can be stolen or fired, which is a nightmare that you'd rather avoid.
Are gun cases handmade?
It's unsure whether all gun cases are made by hand but yes, most high-quality gun cases are made by expert craftsmen.
How long can I use my gun case?
Gun cases can be used for a long-time. Just make sure that you don't throw it around to ensure that it stays by your side for years to come. However, low-quality ones may wither if you throw them around randomly. 
Conclusion on Budget Rifle Cases
The importance of gun cases cannot be stressed upon, because anyone who purchases a gun should understand that an appropriate gun case is not an additional accessory that they can let go of. With that, we hope that this article has allowed you to grab relevant and necessary knowledge related to the best gun cases out there.
Remember that above anything else, your choice and preference matter. Don't forget to add it to the equation before finalizing the purchase.
Be sure to check out our 5.11 Rifle Case review and if you want another great list of best range bags checkout Gun Unversity.