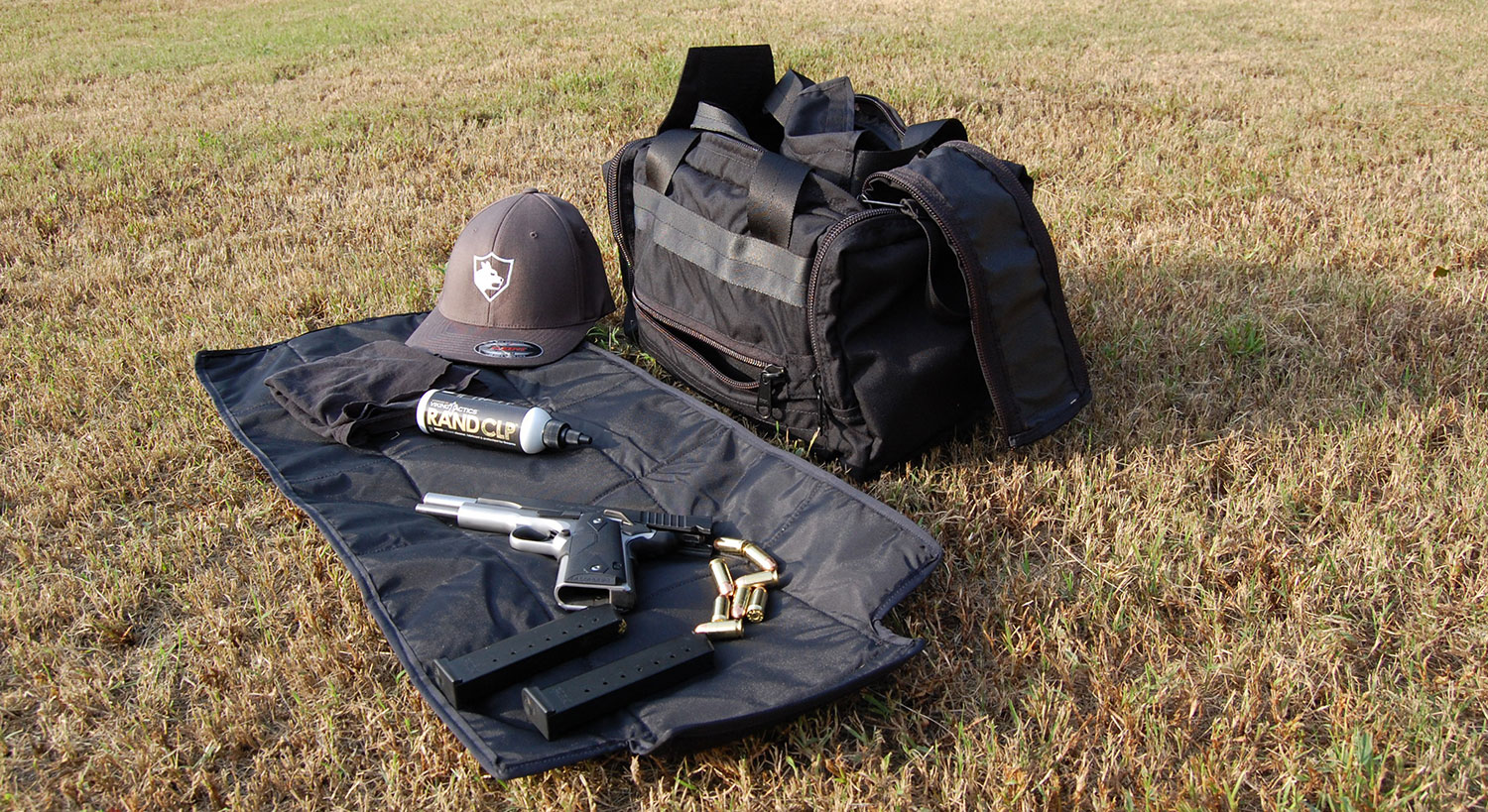 If you are interested in firearms and are a frequent visitor of the shooting range; you are surely going to like what we are offering today. Range bags are an essential item in every shooter's life.
If you keep your firearms and your necessary gear in a regular bag, it is about time that you upgrade to a proper range bag which will put you out of your misery of having to rampage through everything once you need to find a specific time.
The best range bag will allow you to carry your firearms and your ammunition along with all necessary gear. It shall provide you with comfortable carrying features and a reasonable amount of space and partition inside to keep your stuff sorted.
Today we are going to show you the 5 best range bags that can be your ultimate choice when visiting the range next time. We understand that there is a massive variety of such items in the market hence, we have already done all the research for you and short-listed our best picks.
The Best Range Bag In 2021

Below are the 5 best pistol range bags of 2021:
Eberlestock Bang-Bang Range/Med Bag
Vertx COF Range Bags
EXPLORER Wheeled RR29 Range Bag Assault Gear with Sling Hiking Shoulder Backpack EDC
Allen Premium Molded Lockable Range Bag
Lynx Defense Pistol Range Bag
Now that we have listed the best range bags in 2021, let us discuss them in detail without wasting any time. In the end, you shall decide which one suits your requirements and preferences the best.
Made specifically for handgun carrying and to carry all the relevant gear, the Lynx range bag pistol bag is your best choice when visiting the shooting range and having some fun.
It allows you to keep a subtle profile and get the job done without any unnecessary hassle.
Modular Design
A prominent feature of the Lynx range bag is the modular design that it offers. It allows you to create partitions inside the main compartment. Some of them are already made by the company; others you have the choice to buy and install if you want.
Furthermore, the best range bag also allows you to remove the handgun inserts if you want to create more space inside. This feature comes in handy when you want to fit more accessories inside or fit in another gun that couldn't go in due to the rigid handgun inserts.
Besides, this amazing range bag will also provide you with magazine holds that will help to keep all your ammunition in place. Moreover, the zippers on the outer side allow you to keep various items that you might want to keep separate from your main compartment or simply for easy access.
Durable Build
When it comes to range bags, no one wants to compromise on build quality. The nature of the work involves rough handling and sometimes going under extreme conditions so the bag you need must be of the best quality. Lynx has you covered on that end.
The bag is made out of 500D Cordura fabric which increases its capacity to bear rough treatment and keeps the quality intact.
Hence, you can sit back and relax as this range bag is surely worth the price and will last you a long time before you need to think of buying any other bag for the same purpose.
High Storage Capacity
As mentioned earlier, the bag allows you to customize the storage area according to your own preference and needs.
Hence it provides you with a massive storage capacity in various forms. You can rearrange the interior and customize it to best fit your items and belongings.
Moreover, the unique feature offered by the bag to allow you to remove handguns and magazine inserts provides you with extra volume inside so you can fit in large items or use the extra space in your own way.
Protection All-Around
The high storage capacity does not undermine the extra padding feature. The bag is padded from the inside all around to keep your stuff inside safe and secure.
Moreover, a hard base allows the bag to not be affected by any external factors such as rough terrain or wet grounds.
Lynx Defense Pistol Range Bag
Holds Multiple Pistols
Ample Storage
Made in the USA
US Made 500D Cordura
Sholder Strap and Handle
---
The Eberlestock range bag is one of the best items you can have in this category. It is the most appropriate pick for your range use as it provides you with all the necessary features that are required once on the range.
Stylish
The classy appearance with the cobalt blue color gives you the best possible look for your tactical gear. The design is intelligently crafted so that it is appealing to the eye as well as serves all the purposes well.
The build is heavy-duty and will highly compliment your personality and purpose.
Water Resistant
A common problem while on the range is when it starts raining and you have to run to shelter to save your equipment and gear from any damage that the water might cause. But worry not, as this amazing range bag has got you covered.
The water-resistant 1000 denier nylon will make sure that no droplets seep through the material into your gear, hence keeping your machinery safe. Furthermore, the completely waterproof polycarbonate base ensures that the bag does not get wet from below.
Sturdy
The thick and strong nylon ensures that the bag remains durable and lasts you a lifetime. The hard base is made of sturdy polycarbonate so that it wouldn't crack or break easily.
Moreover, the bag can carry an excessive amount of weight without being damaged or posing any threat to the gear inside.
Multi-Purpose
This amazing range bag has adjustable velcro panels and two side pockets which are best to store your handguns for quick access. Furthermore, the durability and water resistance allow you to use this bag for various other purposes.
2 of the most popular ways you can use the versatile bag are for medical kits and cameras. Provided the storage and sectioning features it offers, it is most suitable to carry your equipment and tools and protect them from all external factors.
Eberlestock Bang-Bang Range Bag
Popular Option
Large Range Bag
1000D Nylon
Water Resisitant
Sholder Strap
---
If you are looking for something classy and not so loud that would do the job in an organized manner, the Vertx COF range bag must be your primary choice. It is the best combination of carrying and discreet.
If you are into muted profiles and subtle tones, this pistol range bag will surely never disappoint you.
Easy access
When going to the range, one surely wants to avoid the hassle of taking out everything from the bag as if it were an old trunk or having to rampage through the stuff to find what you want. In such scenarios, the organization opportunity provided by Vertx comes in handy.
It allows you to have various compartments, zipper pockets, and separate access to each one of them so you can instantly find what you want. The two zipper flaps allow you to access certain compartments and storage areas directly rather than having to open the entire bag to access them.
Furthermore, a special compartment to store your ammunition is a major plus point especially if your bullets are not in a box.
Intelligent Design
The shape of the bag is meticulously designed to prevent any bulky appearance. In fact, even after such amazing storage and organizing features, the bag maintains its sleek appearance. Moreover, the design consists of various locks to ensure that the items inside are kept safe and away from unwanted hands.
It is a major safety issue that children often tend to go through their bags and searching up a bag full of firearms and ammunition might turn out dangerous. So if you have children, curious children, around it is best to benefit from the Vertx safe and secure range bags.
Durable
The company makes sure that quality is never compromised. Along with an efficient design and access system, Vertx makes sure that you get exactly what you are paying for. The build quality is supreme and the mesh nylon ensures that your items inside are kept in a sturdy environment.
Due to the high-quality materials used in manufacturing, the bag is surely going to last you decades of use before it starts to show any signs of wearing out.
Vertx COF Range Bags
Well Known Brand
Looks Great
Solid Materials
Discreet Look
Sholder Strap
---
If you are into heavy firearms or need to travel long distances on the range ad carrying all of that gear makes you get tired, don't worry as we got you covered. The Explorer Wheeled RR29 range bag puts your equipment on wheels.
It is perhaps the best pistol range bag to carry heavy or a large number of firearms and gear.
Mega Sorage
The Explorer bag will perhaps provide you with the best storage facilities. The bag has a large number of pockets and that too of different sizes and purposes. The explorer bag allows you to store up to 10 handguns and all of the slots are padded for protection.
Furthermore, there is padding on almost all of the pockets to make sure that none of your items are damaged. You can store documents, flashlights, batteries, magazines; you name it.
Besides, the detachable shoulder strap allows you to put it on wheels whenever you feel like it. If not, you can also use it as a shoulder carry if you want to.
Durable
Build out of 6000 ballistic nylon it is the highest quality that you can get. Furthermore, the heavy-duty zippers ensure that your stuff doesn't fall out due to a zipper malfunction. Moreover, the wheels and the handle are made of supreme quality and able to be carried through rough terrain.
The explorer range bag will allow you to use it in the roughest of ways and still be not worried about the bag being damaged. Furthermore, a hard plate on the base makes sure that your belongings are not damaged by the bottom.
Tactical Appearance
If you want a muscular look and a powerful vibe to come from your gear then this must your best pick. The elongated structure with various pockets and heavy-duty build will leave a subjugating impression and give a fierce expression to whoever sees you with it.
EXPLORER Wheeled RR29 Range Bag
Holds Multiple Pistols
Lots of Storage
600D Nylon
Multiple Pockets
Sholder Strap
---
If you are looking for something which has easy access all around, is durable, and will not ask you to break the bank; then Allen's Premium Molded Range Bag must be your first choice. It has all the features one would seek and is able to cater to all your needs.
This amazing piece of craftsmanship can be used in various ways and for various purposes.
Modern Design
Many of the models we see in the market today feature old designs and do not have anything new to offer. However, this is not the case with Allen's premium range bag. The smart design is very unorthodox for a pistol range bag but it serves the purpose very well.
It offers you 5 different compartments on the outside and more partitions inside so you can keep your stuff sorted. Moreover, there are separate compartments inside the main zipper which allow you to store your firearms and other accessories in a proper manner.
Safe & Secure
When dealing with firearms and ammunition, you are mostly responsible for what happens. A part of that responsibility is that your gear should not go into unwanted hands and neither should it pose a threat to anyone. Furthermore, losing your stuff is yet another irresponsible action that you shall avoid.
But Allen has you covered in this scenario. The premium range bag allows you to lock the main compartment which is where your firearms will be stored. Moreover, there are other locks present at different zippers so you can secure your items and make sure that they never get into the wrong hands.
Sturdy
Quality is never overlooked when Allen makes a new model of their best range bag. This time too, Allen made sure that they used the best materials when it came to manufacturing this amazing piece.
Furthermore, the bag has rigid feet which allows it to stay a few inches above the ground so it stays upright on the ground despite uneven surfaces. Besides, it has a hard base to prevent any damage to the bottom of the bag.
Besides, it also features a gun mat inside so you can safely place your handguns while on the range and also use it to clean them when it is required.
Durable Design and Construction
Greaet Organization
Unique Look and Feel
Lightweight
Buying Guide For The Best Range in 2021
It is always fun to pick out the best range bag for your EDC but are you doing it right? Range bags are often taken for granted and people usually do not pay much heed to them. But you need to understand that getting the right range bag can help save you from a lot of hectic and save you from a lot of trouble on the field.
Moreover, it can also keep your stuff organized and hence save you a lot of time as you won't have to unpack and repack everything. Even if you need to unpack everything, it won't take that much time.
So without any further discussions, let us dive right into some important factors to keep in mind when buying a range bag.
Storage Capacity
The first factor to notice when buying a range bag is to check the storage capacity, especially the volume. Oftentimes, people tend to order range bags without checking this vital piece of information.
As a result, they realize upon receiving the bag that their gear does not fit into it. But this is a problem you can easily avoid if you know the dimensions of your gear and their total volume and compare it with the bag you are buying. We recommend that if you take multiple firearms, magazines and a decent amount of ammunition and gear to the range, you must have a storage capacity of almost 15 L.
Build Quality
Once you have the storage issue sorted, you need to check whether the bag will last you as much as you want it to or not. Many range bags are made of cheap materials such as nylon which wear out quickly and you have to experience holes in your bag.
You need to look for high-quality materials in the build material of your bags such as nylon, Cordura, poly mesh, and a few others. These materials will help your bag to resist harsh weather conditions and sustain quality even during rough handling.
Safety
Next up, we have the safety factor which is extremely important in this field. Your bag must have locks or at least should be able to support external locks so you can keep your stuff secure when you're moving around or even in the range.
This will help to keep unwanted hands away from your gear, especially that of children. So if you are a parent, you must make sure that your range bag is kept out of the reach of your children and has locks so they can't open it and initiate any unwanted scenario.
Protection
After you have the security factor marked on your list, you should make sure that the range bag which you want to buy offers padding on various pockets and compartments so that your gear is not exposed to bare material.
Furthermore, the padding should be shock absorbent, and better still, water-resistant too. The padding will help to prevent the contents of the bag from being damaged in various scenarios.
Price
Last but certainly not least, you need to ensure that if the range bag that you chose meets all the requirements mentioned above, it does not exceed your budget or the company shouldn't overcharge for all the features and specs that they are providing.
Once these criteria are met by a range bag, don't wait it out and buy it immediately as there are chances you might not be able to get your hands on it again.
Best Range Bag Conclusion
To put it all in a nutshell, we have today, guided you on how to choose the best range bag for yourself and also showed you our best picks in the field that are surely going to match your preferences and your requirements.
All of the range bags that we showed you are of top-notch quality and have been selected out of hundreds of others on the basis of their exceptional quality and their outstanding performance in real-time.
Now it is your responsibility to choose the best range bag for yourself, keeping in mind all the important factors that were mentioned in the buying guide.
What are you waiting for if you have already decided on your favorite pick? Click on the link and order yours before it goes out of stock! Make sure to give us feedback on how the bag was once you receive it.
If you are looking for rifle cases be sure to check out our best budget rifle cases as well as all our other rifle case reviews. You can also take a look at some other range bag articles like the one at Gun University.