5.11 Tactical 36″ Shock Rifle Case Review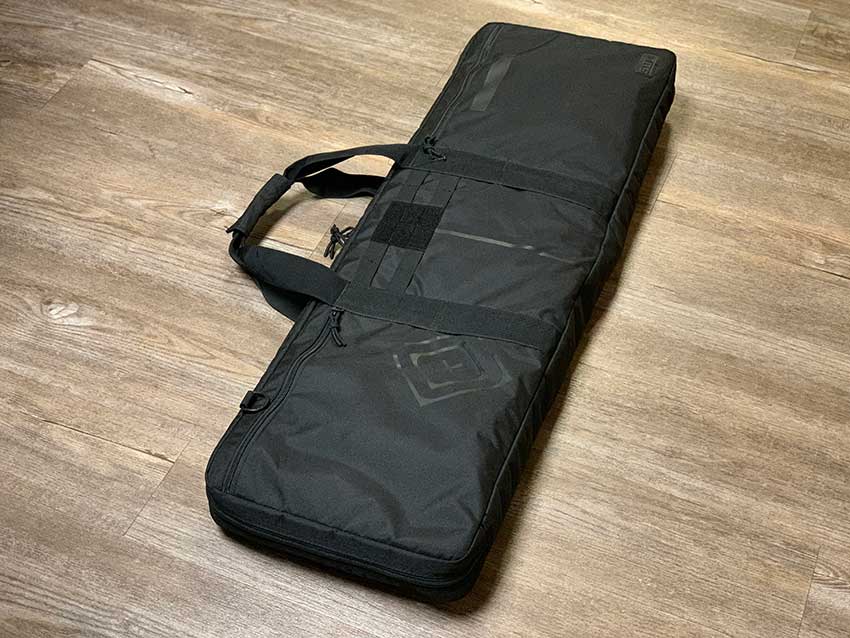 The 5.11 Tactical Highly Mobile Design 36″ Shock Rifle Case is a single gun rifle case built for 36″ AR15 style rifles. Today, we are going to dive into the overall design, look, feel, and quality of the 5.11 Tactical Shock Rifle Case. But best of all the 5.11 Tactical Shock Rifle Case is a budget rifle case!
About 5.11 Tactical
5.11 is best known for its tactical style pants and apparel. The company's website stated that it all started in 1992 when the FBI adopted 5.11's pants and their standard-issue pant. However, 5.11 wasn't founded until 2003 and have been expanding their product line ever since.
Since 5.11 is primarily a law enforcement and military brand they have followed many of their competitors, such as Propper, and expanded beyond just apparel and into the gun bag and case market. Which is why we are writing about them today.
5.11 Rifle Case Overview
We are going to break down this review for the 5.11 Sock Case just like we do all our other case review articles. We are going to talk about the following criteria:
Design
Features
Materials
Quality/Workmanship
So let us get to the part you care about most by getting the standard, sometimes fluff marketing non-sense, company provided dimensions and description out of the way.
Dimensions
Main Compartment – 12.5" H x 38" L x 2.75" D
Total Capacity – 1306 cubic inches / 21 liters
Weight – 2.2 lbs
Holds one 36" rifle
Highly mobile design
Fully padded interior
Integrated rifle retention straps
Locking main compartment zippers
600D polyester exterior
300D padded polyester interior
ID window and WriteBar™ for easy ID
5.11 Rifle Case Design
Let us talk about design. It's the first thing that catches your eye about any product and that's how it looks. The 5.11 Tactical Shock Rifle Case only comes in one color configuration, which is black. The front of the bag sports two large zipper pockets on the left and right ends of the case.
The center has a velcro patch with molle attaches on both sides. I'll address these two molle attachments quickly. These make no sense overall as they don't give you enough clearance for anything. If you were to put a patch on the velcro, surely anything you wanted to attach via the molle strips would be covering your patch. They do add symmetry to the bag in the center, but that's about all they do.
Before someone comments that they are big enough to attach a magazine pouch/holder, see above.
The bag does sport a cool vinyl 5.11 logo and what appears to be a name strip(WriteBar™) on the top right that uses the same material as the logo. This is tastefully done and props on those design elements to 5.11.
Last note about the front of the bag it does have an all-black 5.11 Tactical PVC label in the bottom right corner. Blends well and doesn't stick out like a sore thumb, another props to 5.11 on that design element.
Let us flip over to the back of the rifle case.
The back has the handle straps running down the center of the bag much as the front does. The back features two d-rings for the shoulder strap. There are two triangles sewn into the center of the case with a small woven 5.11 logo tag.
The latest notable thing on the back of the rifle case is the ID window which is slightly larger than the size of a business card. Based on the WriteTag feature and the ID window these bags were clearly made to mass deploy(police departments, military, etc) and be able to ID who's case and rifle is in them quickly.
5.11 Rifle Case Features
Aren't features just fun! We typically let the description of a product tell us what the features of the product are. So I'll start there.
This bag is a single rifle case and has plenty of space to house one rifle and any attachments or accessories you have on the rifle. To fit in this bag you probably want to have no more than a 16″ barrel and a collapsible stock.
Highly mobile design… since when are cases made not to be mobile? I'm not sure how this is pitched as a feature but I'll just say it has a handle and a shoulder strap and you can carry it… so it's "highly" mobile.
Padded interior: After looking over the bag extensively it appears that they are using a good amount of foam. The edges have foam that lines the zipper chain, which is a really good practice for a quality bag. I'll address the foam again in the materials overview.
Integrated rifle retention straps: The retention straps are attached to the back of the bag so that they don't move. They are very simple and appear to just be velcro (hook & loop) and they wrap through two pieces of webbing on the back wall of the case. The case has a triangle buttstock and muzzle catch on each end of the bag.
Locking Zippers: The zippers offer a circle that which the zippers meet they provide the ability to purchase a lock and lock the case.
ID window and WriteBar™ for easy ID: Not much to say here – didn't test the WriteBar but using a metallic Sharpe is probably the best bet. The ID window is slightly larger than a business card.
5.11 Rifle Case Materials
The Shock Rifle Case uses 600D polyester for the exterior. Quick fun fact about exterior fabrics. Most high-end bags will use Cordura fabric which is a nylon blend fabric. A less expensive substituted is polyester. The 600D polyester may sound inferior to the 500D Cordura, but please don't let those numbers fool you. If you even see 600D/650D/1050D that fabric is most likely important and while it may work just fine it's not better or a substitute for real Cordura fabric.
That being said, the 600D polyester is a sturdy fabric and it will hold up well for most use cases. If you plan to just use this as a range carry or it will sit in your vehicle most of the time it will work just fine and probably exceed your expectations for durability and wear.
The interior features 300D padded polyester. Which basically just means it's a less thick/woven polyester that has foam in it.
The foram is actually done well. It appears to be an open-cell foam that's approximately 2 inches thick on the front and back sides of the case.
5.11 Rifle Case Quality/Workmanship
This case is no doubt an overseas made case. China is a safe bet if I were to guess. Most of the bag is well done. Bartacking where it's needed and double stitching where you'd expect it to be.
The one issue I have overall is the quality checking (QC) seems to be a bit lacking. I found several loose threads on the bag and while this bag does have some use, that use wouldn't cause these loose fabric strings to be like they were.
[wp-reviews]